Automated control system
MIDIEL Group completes the manufactured hoisting machines with an automated control and monitoring system include built-in data logger (SAUKiRP-PM) of its own design. In addition, SAUKiRP-PM is proposed to replace obsolete relay-contactor control systems of existing hoisting machines. The operation of the hoisting machine is controlled from the automated workplace of the driver – the mine hoisting control desk.
Distinctive features of SAUKiRP-PM are:
use of modern programmable logic controllers (hereinafter referred to as PLC) Simatic S7 – 1500, S7 – 1200;
dual-channel system architecture;
availability of a modern developed human-machine interface system;
the ability to work with AC drives (short-circuit rotor asynchronous motor, controlled by a frequency converter, synchronous motor controlled by a frequency converter,
induction motor with a phase rotor controlled by a rotary station), direct current (thyristor converter-motor, generator-motor) using hardware signals and/or data bus (Profibus, Profinet, CAN);
the ability to control brake systems of disc and radial-shoe type using hardware signals and / or data bus (Profibus, Profinet, CAN);
integrated data logger based on IBA Pda hardware and software complex.
Structurally, SAUKiRP-PM consists of two channels connected by communication buses. Each of the channels is an independent PLC with connected signal I/O devices, sensors and controls. When executing the control program, the PLC analyzes the signals from the sensors and controls and generates the control signals of the hoisting equipment. To implement the concept of dual-channel, the control of critical parameters of the lifting unit is carried out by both channels using twice the number of sensors. In this case, the signals received from the sensors, as well as the control signals generated in the first and second channels, are subject to equivalence control. Thus, the serviceability of both channels of the control system is monitored. SAUKiRP-PM uses PLCs of different models of the same family. This allows you to implement protection against erroneous program execution due to errors in the system software or with a hardware malfunction of the PLC. When they appear, there is a mismatch of control signals, which is recognized by the equivalence control subroutine.
Block diagram of the automation system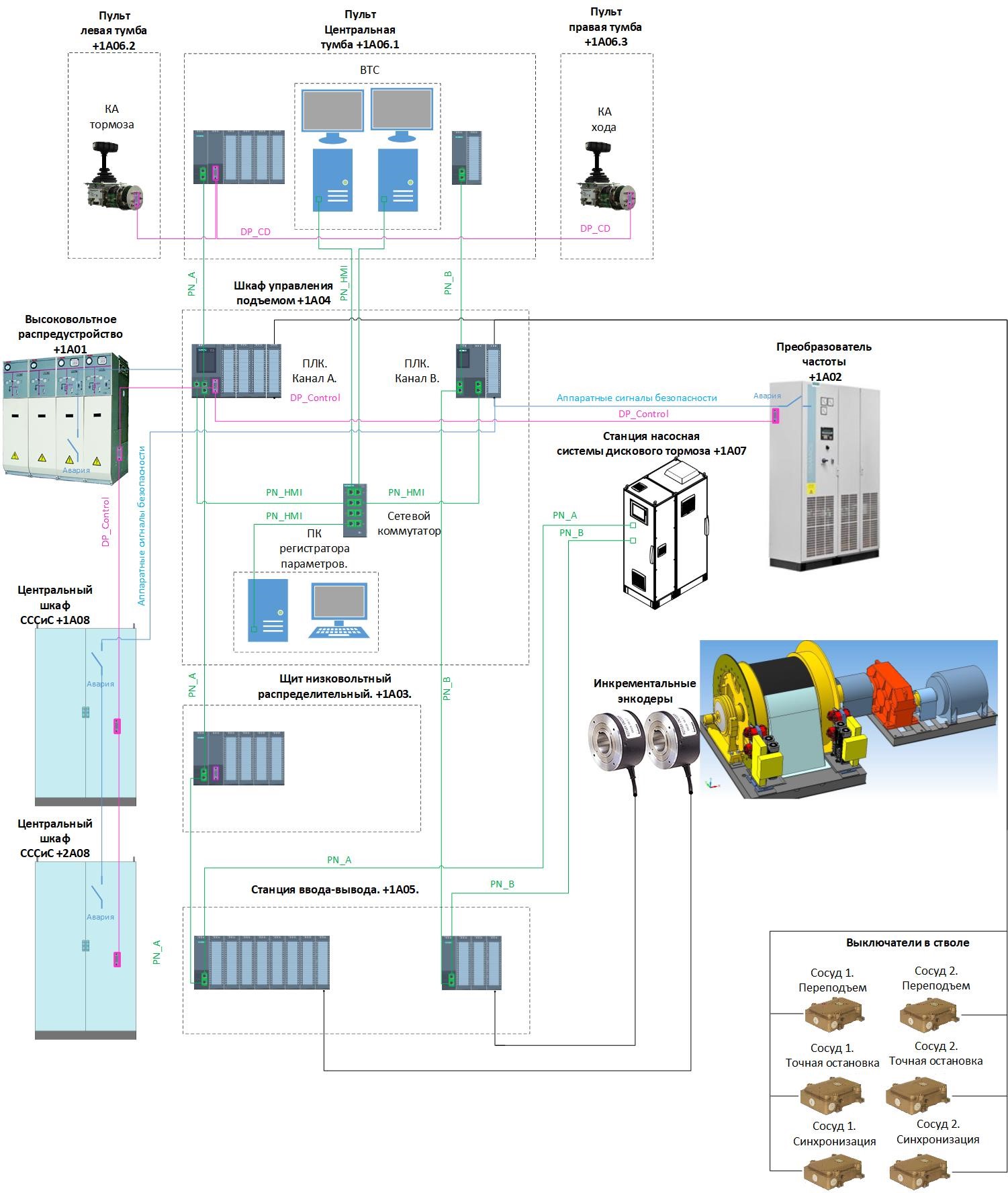 Design
Application of modern computer design programs EPLAN Electric P8 and AutoCAD Electrical
Manufacturing
The equipment is manufactured at one of the enterprises of Ukraine or the EU according to the design documentation of the MIDIEL Group. Components from leading European manufacturers are used.